Ban Tai Apartments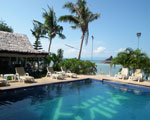 Milky Bay Resort - www.milky-bay-resort-phangan.com
Milky Bay Resort offer an extensive range of over 40 villas, bungalows and studio apartments on the beachfront and the gardens of Ban Tai. The villas are situated next to ponds, fountains and a variety of giant bamboo, palms and tropical plants which make the resort enchanting and special. The customer service is legendary with almost as many staff as customers attending to guests every need. The facilities include a beachfront swimming pool, herbal sauna, pizza cafe, games room, restaurant, bar and a variety of trips and local attractions which are close on hand. Prices are from 960 Baht - 8,000 Baht per night. Current promotion - Special prices outside full moon.
Haad Rin Apartments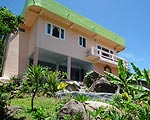 Paradise Villa - www.paradise-villa-phangan.com
Paradise Villa offer a three bedroom property built on three levels with stunning views across both of Haad Rins beaches. The top level has an open roof terrace, the middle level provides the sleeping and living space, the ground level has a sauna and additional bathroom facilities. The villa can accommodate up to 10 guests and is found within minutes of the local bars and restaurants. Pool use is available at the owners resort on the beach. Prices are from 7,000 Baht - 15,000 Baht per night. Daily, weekly and monthly rates are available. Current promotion: Book 7 nights and pay 5 nights.
Wok Tum Apartment
Baan Hin Nok Villa - www.baan-hin-nok-villa.com
Baan Hin Nok Villa is an exclusive luxury private villa located in the lower foothills of Wok Tum with stunning views across the west coast of the Island. There are 2 ensuite bedrooms upstairs and an open plan kitchen and dining area downstairs. These open out onto the terrace and the infinity swimming pool. Prices are from 7,000 - 15,000 Baht per night. Minimum stay: 5 nights at full moon, 5 nights at Christmas and 7 nights at New Year. Current promotion: from 5,000 Baht per night and 80,000 Baht per month.
Haad Salad Apartments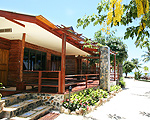 Haadlad Prestige Resort & Spa - www.haadlad-resort-phangan.info
Haadlad Prestige Resort & Spa offers a Penthouse Apartment with a kitchenette. There are also three different styles of wooden villas - some with private swimming pool and outdoor jacuzzi. Each villa is spacious and finished in boutique style. Haadlad Resort boasts a large beachfront, Spa, cooking school, restaurant and chlorine free swimming pool. A great place for friends and family. Prices from 1,680 - 14,400 Baht per night. Current promotion - book 5 nights and pay 4 nights, book 4 nights and pay 3 nights.
Koh Phangan Apartments