Ban Tai Bungalows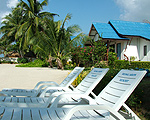 Rung Arun Resort - www.rungarun-resort.info

Rung Arun Resort is designed to be in harmony with its natural surroundings and is found along the beautiful white sandy beach of Ban Tai. The resort is not far from Haad Rin where the world famous full moon party takes place. The bungalows are located on the beach alongside the fine open air restaurant. Between the bungalows and the beach the gardens have been landscaped allowing relaxation and rest. Enjoy the sun or go for a swim. The cottages are scattered across the beachfront and around the swimming pool with tropical plants and swaying coconut palms. The hotel rooms are set on the beach with magnificent views of Samui island. Prices from 900 - 3,500 Baht per night.
Ban Kai Bungalows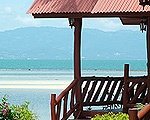 Morning Star Resort - www.morningstar-resort.info
Morning Star Resort is a recently redesigned and relaunched resort on Ban Kai beach in the heart of Phangan Party Land. Just ten minutes from Haad Rin with a beautiful beach, swimming pool and a range of modern Thai classic bungalows - Morning Star Resort offers an ideal holiday destination. The cocktail bar is legendary! A friends and family destination. Prices from 950 - 3,790 Baht per night. Current promotion: Rooms from 890 Baht. 15% discount for 3 months advanced bookings.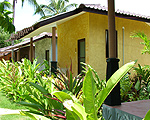 Sabaii Bay Resort - www.sabaii-bay-resort-phangan.info
Sabaii Bay Resort offer a range of beach bungalows with a rustic feel set in large gardens & grounds on the beach at Ban Tai. At Sabaii Bay Resort you are in touch with the party scence but far enough away to be able to relax and catch some well earned rest.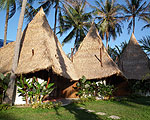 B52 Beach Resort - www.b52-beach-resort-phangan.info
B52 Beach Resort is one of the most popular, social and well designed resorts offering very reasonably priced villas, deluxe and standard bungalows on the Ban Tai coast of Koh Phangan. The beachfront restaurant and bar have an almost African style thatched roof and the infinity pool with a built in cocktail bar ensures that the party starts at B52. What else could a resort named after one of the most famous drinks offer? Prices are from 1,500 - 3,750 Baht per night. Current promotion : Book 4 nights and pay 3 nights - outside full moon week. Full Moon party package available. Prices from 900 - 5,000 Baht per night.
Ao Nai Wok Bungalows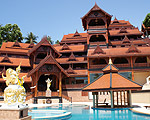 Grand Sea Resort - www.grand-sea-resort-phangan.com
Grand Sea Resort is built in traditional Lanna Thai style with a range of bungalows, villas, suites and hotel rooms that stretch from the beachfront swimming pool to the crest of the hill top with superb views across the small Islands which typify the coast. The resort also offers a beachfront bar, restaurant and plentiful services which include massage, internet cafe and an abundance of activities. Prices from 1,000 - 3,800 Baht per night. All year round value.
Haad Yao Bungalows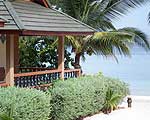 Seaboard Bungalows - www.seaboard-bungalows-phangan.info
Seaboard Bungalows are located beach central with a large range of aircon and a small range of fan bungalows on the beachfront at Haad Yao. The bungalows are all recently built and price is according to the distance from the seafront. Each bungalow offers sea views and there is a restaurant and bar located on the beach to serve guests all their needs and requirements. Prices from 800 - 2,800 Baht per night. Under new western management.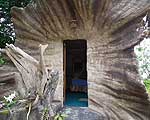 Lucky Resort - www.lucky-resort-phangan.com
Lucky Resort has a range of 9 different bungalow styles which include the innovative fallen log style tree bungalow and stone bungalow categories the latter of which is hewn out of the rock on the beach to create an almost cave like dwelling with full ensuite facilities, aircon and a veranda over the sea. There are also beachfront and sea views bungalows that stretch from the ocean to the top the hillside. Facilities include swimming pool, restaurant and cocktail bar. Located equi-distant between Haad Yao and Haad Salad. Prices are from 480 - 3,000 Baht a night.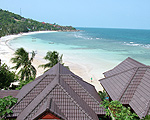 Haad Yao Bay View Resort - www.haadyao-bayviewresort.info
Haad Yao Bay View Resort has a range of bungalows, villas and hotel rooms with extensive beachfront and swimming pool on the northern end of Haad Yao beach. The views from each of the rooms or bungalows are simply breath taking as the resort enjoys one of the best positions at Haad Yao. Rising from the beachfront to the top of the hillside Haad Yao Bay View Resort really does have the ideal spot to enjoy a refreshing holiday. Prices from 1,200 - 5,300 Baht per night.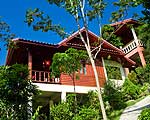 Haad Yao Resort - www.haad-yao-resort.com
Haad Yao Resort provide hotel rooms on the beach and hillside villas overlooking the bay. The villas are one bedroom with a separate living & dining area and are available for rent on both a short term and a long term "house for rent" basis. The hotel rooms are spacious with ensuite facilities and are available in both aircon and fan cooling options. The beachfront bar and restaurant provide an entertaining venue and there are many activities such as wave boarding, kite boarding, snorkeling and safaris to choose from. Prices from 650 - 2,800 Baht per night.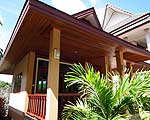 Haad Yao Villa - www.haad-yao-villa.com
Haad Yao Villa provides a huge choice of accommodation from private one bedroom bungalows and villas plus a large hotel accommodation range with one or two bedroom options - allowing from 1 - 6 guests to sleep within the same unit. The swimming pool is on the beachfront with the restaurant and cocktail bar. At night the beach comes alive with fire juggling shows, music, lights and bbq. Prices are from 1,200 - 4,000 Baht a night.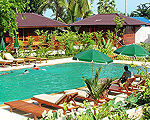 Baan Haad Yao Villas - www.baan-haad-yao-villas.info
Baan Haad Yao Villas is a villa resort, hotel & guesthouse complex that offers twenty five modern Thai villas - each accommodating up to four and at a push five people. The villas that are all built from wood surround the swimming pool and gardens which have been landscaped to integrate the buildings and the natural habitat. Prices from 1,360 - 3,900 Baht per night.
ChalokLam & Haad Khom Bungalows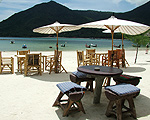 Malibu Beach Bungalows - www.malibu-beach-bungalows-phangan.info
Malibu Beach Bungalows are located on a private beach which juts out into Chalok Lam bay creating a small island peninsula. The bungalows are both large and well designed with cylindrical roofs and Lanna style interiors with wooden beams, ceilings and supports to create comfortable and classy accommodation. There are also fan style accommodation units for the budget end of the market ensuring that there truly is accommodation for all. Prices from 800 - 4,000 Baht per night.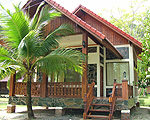 Wattana Resort - www.wattana-resort-phangan.info
Wattana Resort is one of the most popular resorts on the island with a friendly approach to management and a superb relaxing locationb at the end of the beach. Wattana has been open for almost 20 years and is located on the far west of Chalok Lam Bay with a private beach. Wattana Resort offers a vast variety of accommodation with over 20 rooms available for guests. The restaurant provides fresh sea food to make special dishes every day. Prices from 400 - 2,500 Baht per night.

Mae Haed Bungalows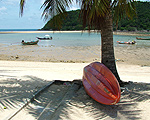 Royal Orchid Resort - www.royal-orchid-resort-phangan.info/
Royal Orchid Resort overlooks the offshore island of Koh Ma on the North West coast of the Island. Royal Orchid offers a range of budget fan and aircon accommodation on the seafront and on the hillside overlooking the beach. The sand bar that joins Phangan to Koh Mah is just a few yards away. Prices are from 300 - 1,500 Baht a night.
Haad Dao Deuk Bungalows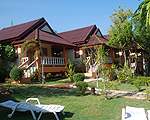 Bounty Resort - www.bounty-resort-phangan.info
Bounty Resort offer a range of aircon and fan bungalows set on a private beach and hillside at Haad Dao Deuk - between the beaches of Haad Son and Haad Yao. The resort features a viewpoint swimming pool and a range of freshlt built accommodation with superb views. Prices from 650 - 2,200 Baht per night.
Haad Salad Bungalows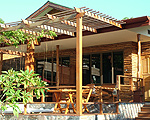 Haadlad Prestige Resort - www.haadlad-resort-phangan.info
Haadlad Prestige Resort & Spa offers a range of large wooden villas and bungalows on the beachfront with hotel facilties just behind. There are outdoor jacuzis for each villa and a private beachfront swimming pool for the top of the range villa. The villas surround the chlorine free swimming pool . Prices from 1,680 - 14,400 Baht per night. Book 5 nights and pay 4 nights, book 4 nights pay 3 nights.
Haad Rin / Leela Beach Bungalows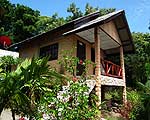 Moon Paradise Bungalows - www.moon-paradise-phangan.com
Moon Paradise Bungalows are the originators of the Full Moon party on Koh Phangan. With a range of bungalows stretching from the beachfront to the top of the hillside there are five styles from which to choose with bedding for between 2 - 4 guests per bungalow. Situated at the end of the beach has many benefits - the resort is relatively peaceful yet is just a few minutes walk to the heart of the bars and restaurants of Haad Rin. Prices are from 550 - 3,750 Baht per night.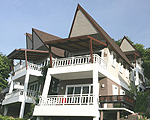 Cocohut Resort - www.cocohut-phangan.com
Cocohut Resort is found at Leela Beach which is adjacent to the Full Moon party beach at Haad Rin. Cocohut Resort extends from the beachfront to the hill top with a superb range of Cliff & Hillside Bungalows. There are Pool Villas and Executive suites surrounding the swimming pool and luxury Beachfront Pool Villas that are incredible. The beach is how everyone imagines a desert island should be. Separated from the main full moon party beach the resort is however close to the event without the hassle of all the crowds. Prices are from 2,050 - 8,900 Baht per night. Current promotion: special outside full moon prices.
Koh Phangan Bungalows
In the early 80's the accommodation of Koh Phangan consisted of a few straw and bamboo beach huts for visitors. The Island was mainly a plantation for coconut groves and a fishing port with local people dominating the Island industry. The introduction of a Full Moon Party in Haad Rin changed the Island forever. Ever increasing numbers of tourists drove the construction of Koh Phangan bungalows and resorts. Basic facilities have been replaced by bungalows with stunning designs to create plentiful choice for consumers. Having said that the Island still offers an entire range of bungalows from cheap and cheerful fan bungalows to luxurious air conditioned bungalows with private pools and stunning views.

Koh Phangan epitomises the tourist development that Thailand has undergone in just one generation. Yet there is still an abundance of nature and the key elements of mystique and romance that lead many people to fall in love with the Island. Long stayers are becoming ever more frequent. Bungalows with the iconic hammock symbolise the laid back lifestyle that is available on Koh Phangan Island.
More Koh Phangan Bungalows, Villas, Accommodation and Activities will be added to this website so please check back regularly to see the updates as more options are added on a regular basis. If you would like to add your bungalow business to this website please send an email to listings@koh-phangan.tv