Haad Yao Hotels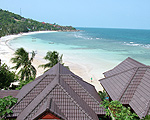 Haad Yao Bay View Resort - www.haadyao-bayviewresort.info
Haad Yao Bay View Resort offers a wide range of bungalows, villas and hotel rooms with extensive private beachfront and large swimming pool on the northern shore of Haad Yao beach. The hotel is suitable for all budgets with a wide selection to choose from. The views from each of the one hundred rooms are simply beautiful as the resort enjoys one of the best positions on the beach. Prices from 1,200 - 5,300 Baht per night. Special promotional prices available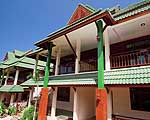 Haad Yao Resort - www.haad-yao-resort.com
Haad Yao Resort provide spacious hotels rooms on the beach and a range of 10 hillside villas. The villas are one bedroom with a separate living & dining area and are available for rent on both a short term and a longer term "house for rent" basis. The hotel rooms have ensuite facilities and are available in aircon and fan cooling options. The beachfront bar and restaurant provide a stunning setting for some night time entertainment and there are many activities such as snorkelling, wave boarding, kite boarding, elephant and jeep safaris to choose from. Prices from 650 - 2,800 Baht per night.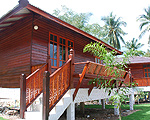 Baan Haad Yao Villas - www.baan-haad-yao-villas.info
Baan Haad Yao Villas are a recently built villa complex that offer twenty five modern Thai spacious wooden villas that can sleep up to four people with bathroom and full mod cons. With ultra friendly management the villa complex offers a great way to relax and enjoy the sunshine. The villas encircle the swimming pool and the gardens which have been superbly landscaped. Prices from 1,360 - 3,900 Baht per night. Current promotion: Villas from 1,750 Baht and hotel rooms from 1,250 Baht. .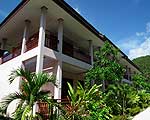 Haad Yao Villa - www.haad-yao-villa.com
Haad Yao Villa provides a range of spacious villas, hotel rooms and bungalows with up to two bedrooms that allow from 1 - 6 guests to sleep within the same unit. The swimming pool is situated on the beachfront with the restaurant and cocktail bar and offer fantastic views in the daytime of the numerous beach activities that can be indulged. At night the beach comes alive with fire juggling shows, music, lights and bbq. Prices are from 600 - 3,200 Baht a night. Current promotion - special prices on standard and superior hotel rooms.
Haad Salad Hotels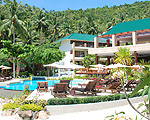 Haadlad Prestige Resort - www.haadlad-resort-phangan.info
Haadlad Prestige Resort & Spa occupies the end of the northern side of Haad Salad beach. Haadlad offer a range of hotel and villa accommodation providing superb wooden villas with outdoor jacuzzis and private beachfront swimming pool. The beachfront terrace is an excellent place to relax and unwind with a coctail. The chlorine free main swimming pool is one of the largest on Haad Salad beach. Prices from 1,680 - 14,400 Baht per night. Current promotion - Book 5 nights and pay 4 nights, book 4 nights and pay 3 nights.
Ao Nai Wok Hotels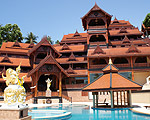 Grand Sea Resort - www.grand-sea-resort-phangan.com
Grand Sea Resort is built in traditional Lanna Thai style with an extensive range of bungalows, villas, suites and hotel rooms that stretch through seemibgly endless grounds from the beachfront swimming pool to the crest of the hill top with panoramic views across the small offshore Islands. The resort also offers a beachfront bar, restaurant and a variety of services which include massage, a gym and an internet cafe. The activities on offer are numerous and include water sports, fishing and a gym. Prices from 1,000 - 3,800 Baht per night. All year round value.
Haad Chao Phao Hotels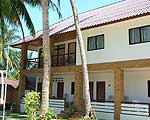 Phangan Cabana Resort - www.phangan-cabana-resort.com
Phangan Cabana Resort offers a range of hotel, apartment and cottage accommodation on the beachfront at Haad Chao Phao. The apartment is over 100 square meters in area taking up the entire top floor of the hotel building. There are two ensuite bedrooms and a large living area with balcony overlooking the sea. The hotel rooms beneath are modern in a recently completed building and the cottages are traditional Thai style terraced accommodation with a range of bedding options. The resort has a swimming pool, sauna, restaurant and cocktail bar. Prices from 1,000 - 5,000 Baht per night. Current promotion book 4 nights and pay 3 nights, book 7 nights and pay 5 nights outside of full moon week.
Koh Phangan Hotels
Major investment by local people, Thai hotel chains and global brands have dramatically increased the range of accommodation available on Koh Phangan. From small boutique hotels to 400 room properties there is a wide choice of places to stay on the Island. Koh Phangan TV include hotels and resorts that we feel offer great places to stay, keeping the authentic touch of Thailand and blending it with a slice of Western luxury.