Phang Waterfall Villas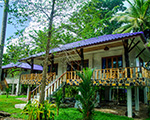 The Shore Resort - www.koh-phangan.tv/theshoreresort/index.html
The Shore Resort is found on the road from Chaloklam to Thongsala, close to the new waterpark and an area of outstanding natural beauty - Phang waterfall. The resort offers a range of one and two bedroom houses, two bedroom pool villas and hotel rooms for rent. All rooms have ensuite bathrooms and aircon facilites. The houses and villas feature kitchens. The resort has a swimming pool, a restaurant and recreation area. New to Koh Phangan - the resort was completed in December 2014. Daily, weekly and monthly rates are available. Prices are from 1,000 - 5,500 Baht per night.

Baan Nai Suan Villas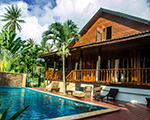 Koh Phangan Garden Villa - www.koh-phangan.tv/koh-phangan-garden-villa/index.html
This recently acquired three or six bedroom villa measures over 420 square meters in area and is set in grounds of almost 2,000 square meters. The lounge opens out onto the terrace with 12 meter x 3 meter swimming pool and lush, landscaped gardens. The upper level features an open plan area for relaxation, yoga or a childrens play space. The master bedroom has a mezzanine level with space for an extra bed - ideal for older children. Luxury and quality for those looking for an extra special holiday. Daily, weekly and monthly rates are available. Prices are from 8,000 Baht per night for daily rates and from 100,000 Baht per month for monthly rates.
Ban Tai Villas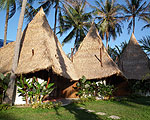 B52 Beach Resort - www.b52-beach-resort-phangan.info
B52 Beach Resort is perhaps the rising star of koh Phangan - it is a social and well designed resort offering very reasonably priced Balinesian style Villas, a Big Villa, Jacuzzii Pool Villas as well as more traditional deluxe and standard bungalows on the Ban Tai coast of Koh Phangan. The beachfront restaurant and bar have also adopted the bali style thatched roof approach and the infinity pool with a built in cocktail bar ensures that the party starts at B52. Where the party finishes is up to you! Prices are from 1,500 - 3,750 Baht per night. Current promotion book 7 nights and pay 5 nights, book 5 nights and pay 4 nights - outside full moon week. Full Moon party package available. Low prices in the low season - from 1,200 Baht.
Hin Kong Villas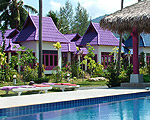 Baan Bang Rak Villas - www.baan-bang-rak.com
Baan Bang Rak Villas offer a range of one and two bedroom villas surrounding the swimming pool and overlooking the Baan Hin Kong coast with views across the bay to the outlaying Islands. Each villa is spacious and comes with a kitchen, bathroom, living room and terrace. All units are air conditioned. Prices are from 1,990 - 3,790 Baht per night. Current promotion: Book 7 nights and pay 4 nights. Monthly rates available.
Ao Nai Wok Villas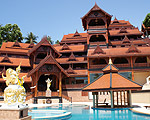 Grand Sea Resort - www.grand-sea-resort-phangan.com
Grand Sea Resort have developed a large range of Lanna Thai one bedroom villas, bungalows, suites and hotel rooms which are staggered from the beachfront to the top of the hillside overlooking the bay. The resort also offers a beachfront bar, a restaurant and plentiful services which include massage, a gym, an internet cafe and an abundance of activities including watersports and trekking. Prices from 1,000 - 3,800 Baht per night. All year round value.
Haad Salad Villas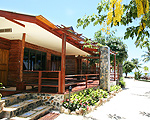 Haadlad Prestige Resort & Spa - www.haadlad-resort-phangan.info
Haadlad Prestige Resort & Spa offers a range of luxury villa and hotel accommodation. There are three different styles of wooden villas - some with private swimming pool and outdoor jacuzzi. Each villa is spacious and finished in boutique style. Haadlad Resort boasts a large beachfront, Spa, cooking school, restaurant and chlorine free swimming pool. A great place for friends and family. Prices from 1,680 - 14,400 Baht per night. Current promotion - book 5 nights and pay 4 nights, book 4 nights and pay 3 nights.
Leela Beach Villas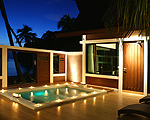 Cocohut Resort - www.cocohut-phangan.com
Cocohut Resort is found at Leela Beach which is the very next beach to the Full Moon party beach at Haad Rin. Cocohut Resort offers a range of Beachfront Pool Villas and Pool Terrace accommodation that is simply stunning. There are Executive suites surrounding the swimming pool and a luxury Spa, swimming pool plus beachfront restaurant & bar. The beach is from the set of a Hollywood movie. Separated from the main full moon party beach by the hillside the resort is without all the crowds. Prices are from 2,050 - 8,900 Baht per night.
Haad Yao Villas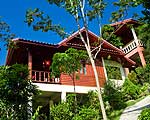 Haad Yao Resort - www.haad-yao-resort.com
Haad Yao Resort provide hillside villas overlooking the bay. The villas are one bedroom with a separate living & dining area and are available for rent on both a short term and a long term "house for rent" basis. The resort also offer a range of hotel rooms on the beach which are spacious with ensuite facilities and are available in both aircon and fan cooling options. The beachfront bar and restaurant provide an entertaining venue and there are many activities such as wave boarding, kite boarding, snorkeling and safaris to choose from. Prices from 650 - 2,800 Baht per night.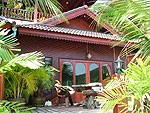 Haad Yao Bay View Resort - www.haadyao-bayviewresort.info
Haad Yao Bay View Resort offers large beachfront family villas that can accommodate up to five guests. The villas are also situated next to the pool and each has full ensuite bathroom facilities and living area. Behind the beachfront are a range of bungalows and jacuzzi bungalows which are staggered up the hillside to offer a choice of different views and accomodation options. Prices from 1,250 - 5,300 Baht per night.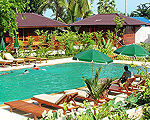 Baan Haad Yao Villas - www.baan-haad-yao-villas.info
Baan Haad Yao Villas offer a selection of very large wooden villas and hotel accommodation. Each villa can accommodate up to four or five guests and is up to 70 square meters in area. The villas surround the swimming pool and spread throughout the gardens which have been landscaped to integrate the buildings and the natural habitat. Prices from 1,360 - 3,900 Baht per night. Current promotion: Special prices - rooms from 1,250 Baht.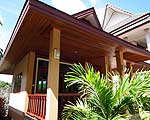 Haad Yao Villa - www.haad-yao-villa.com
Haad Yao Villa provides a range of spacious villas, hotel rooms and bungalows.The villas are independent of the hotel building and have a choice of one or two beds for couples and small familys. The hotel rooms have up to two bedrooms that allow from 1 - 6 guests and larger families to sleep within the same apartment. The swimming pool is situated at the beachfront with the restaurant and cocktail bar, offering excellent views in the daytime of the numerous beach activities. At night the beach is a very sociable setting with fire juggling shows, music, lights and bbq. Prices are from 600 - 3,200 Baht a night.
Wok Tum Villas
Baan Hin Nok Villa - www.baan-hin-nok-villa.com
Baan Hin Nok Villa is an exclusive luxury private villa located in the foothills of Wok Tum overlooking the west coast of the Island and just minutes away from Thongsala and the west coast beaches. There are 2 ensuite bedrooms upstairs and an open plan kitchen and dining area downstairs. These open out onto the terrace and the infinity swimming pool. There are stunning views across the Ban Tai coastline with views from every room in the house. Prices are from 7,000 - 15,000 Baht per night. Minimum stay: 5 nights at full moon, 5 nights at Christmas and 7 nights at New Year. Current promotion: from 5,000 Baht per night and 80,000 Baht per month.
Koh Phangan Villas
Luxury Villas in Koh Phangan - Thailand. Coming Soon so keep posted.....