Chaloklam (sometimes spelt Chaloklum) is an amazing place for people wanting to get back to a more natural environment. The bay is about 3 km in length with sandy stretches and bungalows spread thoughout.
Chaloklam itself is a former fishing village with a very laid back atmosphere. There is a dive center in the village and many small shops and restaurants. There is a temple in the village and a Chinese Temple on the way back to the port of Thongsala.
An elephant training camp on the outskirts of the village is a great attraction - in fact there are two.
In general the bay is filled with trees and meadowland rather than development which lends it a rural feel. The people are very chilled out and accomodating. There are some bars in the village and then most of the bungalows along the beach also offer drinking and dining.
A great place to visit and use as your base to visit the many beaches and bays on the island.
ChalokLam & Haad Khom Bungalows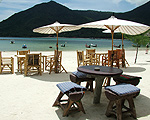 Malibu Beach Bungalows - www.malibu-beach-bungalows-phangan.info
Malibu Beach Bungalows are located on a private beach which juts out into Chalok Lam bay creating a small island peninsula. The bungalows are both large and well designed with cylindrical roofs and Lanna style interiors with wooden beams, ceilings and supports to create comfortable and classy accommodation. There are also fan style accommodation units for the budget end of the market ensuring that there truly is accommodation for all. Prices from 800 - 4,000 Baht per night.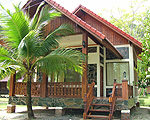 Wattana Resort - www.wattana-resort-phangan.info
Wattana Resort is one of the most popular resorts on the island with a friendly approach to management and a superb relaxing locationb at the end of the beach. Wattana has been open for almost 20 years and is located on the far west of Chalok Lam Bay with a private beach. Wattana Resort offers a vast variety of accommodation with over 20 rooms available for guests. The restaurant provides fresh sea food to make special dishes every day. Prices from 400 - 2,500 Baht per night.