Haad Chao Phao is a white sandy beach that stretches for half a kilometre on the west coast of Koh Phangan. The bay by any standards is underdeveloped which allows visitors that wonderful "desert island feel". The swimming here is excellent and the coral reef that stretches along the coast here from Haad Son to Sri Thanu is just offshore and within easy reach for most swimmers.
Just above Haad Chao Phao there are some excellent view points that offer a panoramic of the west coast.
Haad Chao Phao is one of the lesser known beaches on Koh Phangan offering beauty and relaxation.
Haad Chao Phao Accommodation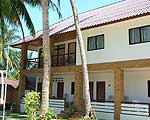 Phangan Cabana Resort - www.phangan-cabana-resort.com
Phangan Cabana Resort offers a range of hotel, apartment and cottage accommodation on the beachfront at Haad Chao Phao. The apartment offers two ensuite bedrooms and a large living area with balcony overlooking the sea. The hotel rooms are modern in a recently completed new building and the cottages are traditional Thai style terraced accommodation at affordable prices. The resort has a swimming pool, sauna, restaurant and cocktail bar. Prices from 1,000 - 5,000 Baht per night.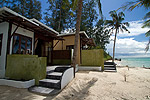 Bovy Beach House - www.bovy-beach-house-phangan.com
Bovy Beach House for Rent is positioned at the very south of Haad Chao Phao and is an exclusive new self catering resort with seventeen studios available directly on the beach at Sri Thanu. There is a choice of two double bedroom beach houses or studios with double beds in three different styles. Each studio has a veranda, a kitchen, aircon or fan cooling, bathroom, WC, hot shower and Wi-Fi. The S Style also have a bath tub and satellite TV and are decorated internally with bamboo and teakwood in a bali style. Prices are from 800 - 4,000 Baht a night. Monthly prices from 8,000 - 40,000 Baht a month. Developed by the owners of B52 Beach Resort
Niramon Sunview Villas is just to the North of Haad Chao Phao and offer a range of 32 villas that stretch from the beachfront to the summit of the hill - the location for the restaurant, bar and swimming pool. The views across the beach and western coast are amazing with panoramic views that are straight out of the best guide books. There are both aircon and fan villas available - the resort can accommodate all budgets and is very well priced.