Haad Salad beach is a very family orientated beach on the west coast of Koh Phangan between Haad Yao and Mae Haad. Over the last four years the beach has developed impressively from a backpackers destination to a family oriented destination offering some upmarket accommodation. There are planty of resorts along the shoreline, each one offering restaurant or bar facilities overlooking the beach.
Through the centre of the beach is golden powdery sand and at the edges of the bay are some light rock formations that help to protect the bay in bad weather.
Haad Salad is now reached by a first class road from Haad Yao allowing all of the beaches on the western tip to be reached within a few minutes drive. Longtail boats line the shore and these can be hired for island trips or snorkelling in the next bay at Koh Ma.
Haad Salad Hotels, Bungalows & Resorts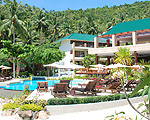 Haadlad Prestige Resort - www.haadlad-resort-phangan.info
Haadlad Prestige Resort & Spa occupies the end of the northern side of Haad Salad beach. Haadlad offer a range of hotel and villa accommodation providing superb wooden villas with outdoor jacuzzis and private beachfront swimming pool. The beachfront terrace is an excellent place to relax and unwind with a coctail. The chlorine free main swimming pool is one of the largest on Haad Salad beach. Prices from 1,680 - 14,400 Baht per night. Current promotion - Book 5 nights and pay 4 nights.