Just offshore there is a coral reef and so it is very easy to snorkel and observe the abundant sea life that is present on the reef. Nearby at Haad Yao there are diving schools that can teach courses and offer PADI qualifications. The reef is handily placed for the schools and there are also day trips to other dive sites around Koh Phangan.
Haad Yao beach is just next door - just a few minutes walk and so guests at Haad Son can also take advantage of what is one of the longest beaches on Koh Phangan to add variety in beach time destinations.
Haad Son is just ten minutes from Thongsala - the main port which means that shopping trips or restaurant and bar hopping are very easy to undertake.
Haad Son Bungalows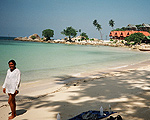 Haad Son Resort - Bungalows, Villas & Hotel - www.haad-son.info
Haad Son is located on their own secluded white sandy bay which is both stunningly beautiful and also a haven for those seeking a beach holiday in relative privacy. The resorts rich tropical gardens and beautiful natural surroundings harmonize with the environment creating a special atmosphere. Haad Son resort has a great variety of accommodation options with beachfront villas, garden bungalows, penthouse apartments and luxury air-con villas all available. Prices from 966 - 7,000 Baht per night.