Haad Yao in Thai is called long beach - it is nearly one kilometre in length making it one of the largest beaches and bays on the island - and one of the most beautiful and popular. There is plenty to do here from beach activities through to bars and restaurants that pop up across the bay and on the road into Haad Yao.
Haad Yao is also a magnet for divers and the diving schools teach courses and offer PADI qualifications. There are other places on Koh Phangan such as Chalok Lam that also offer diving training. There is a reef handily placed just offshore from Haad Yao and this offers an excellent training ground. The same reef is a pefect swimming ground for snorkellers to partake in the undersea world advernture.
Haad Yao is on the west coast of Koh phangan with the beaches and bays of Haad Son, Haad Chao Phao & Sri Thanu all within easy reach. Thongsala the main port and is just ten minutes by taxi.
Haad Yao Bungalows & Hotels
Haad Yao Bay View Resort offers a wide range of bungalows, villas and hotel rooms that can suit all budgets. The resort has an extensive beachfront and a large swimming pool. The views from each of the one hundred rooms and bungalows are simply beautiful as the resort enjoys one of the best positions on the beach. Prices from 1,200 - 5,300 Baht per night.
Seaboard Bungalows offer a selection of both aircon and fan bungalows on the beachfront at Haad Yao. The bungalows all have seaviews and were built in 2007. The resort comes complete with bar and restaurant facilities located on the seafront. Each bungalow offers sea views and there is free WiFi available for guests to enjoy. Prices from 800 - 2,800 Baht per night.
Bounty Resort is set at Haad Dao Deuk at the southern end of Haad Yao beach with a private bay and property that stretches from the shoreline and up the hillside allowing fabulous views out to sea. The viewpoint swimming pool and restaurant offer guests a truly relaxing holiday experience. Prices are from 650 - 2,200 Baht per night.
Haad Yao Villa provides a range of spacious private villas, hotel rooms and bungalows at the epicentre of Haad Yao daytime and nightime activities. The villas are independent of the well designed hotel building and have a choice of either one or two beds for couples and small familys. The hotel rooms one and two bedrooms that allow up to six guests and larger families to sleep within the same apartment. The swimming pool is found at the beachfront along with the restaurant and cocktail bar and offering excellent views of the bay area. At night the beach is a very entertaining setting with fire juggling shows, music, lights and bbq. Prices are from 600 - 3,200 Baht a night. Current promotion: Special 10% discount available.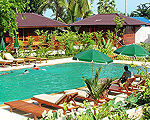 Baan Haad Yao Villas - www.baan-haad-yao-villas.info
Baan Haad Yao Villas offer a selection of very large villas and hotel accommodation. Each villa can accommodate up to four or five guests. The villas that are all built from wood surround the swimming pool and gardens which have been landscaped to integrate the buildings and the natural habitat. Prices from 1,360 - 3,900 Baht per night. Current promotion: Special prices - rooms from 1,250 Baht.
Haad Yao Resort provide hotel rooms on the beach and a range of ten hillside villas overlooking the bay behind the hotel. The villas are one bedroom with a separate living & dining area and are available for rent on both a short term and a long term "house for rent" basis. The hotel rooms are modern and spacious with ensuite facilities and are available in both aircon and fan cooling options. The beachfront bar and restaurant provide a perfect setting for day time and night time entertainment and there are many activities to choose from. Prices from 650 - 2,800 Baht per night.
Lucky Resort offers a superb range of nine different bungalow styles which include the innovative fallen log style tree bungalow and stone bungalow categories - the latter of which is cut out of the rock on the seafront to create a cave like dwelling with full ensuite facilities, aircon and an extensive veranda over the sea. The resort also offers beachfront and sea view bungalows that stretch from the sea to the top the hill. Facilities include swimming pool, restaurant and cocktail bar. Located equidistant between Haad Yao and Haad Salad. Prices are from 520 - 3,000 Baht a night.