Ban Kai is found on the very end of the south west coast of Phangan and is the next beach to Haad Rin albeit separated by a long and winding road that climbs the hills through to the full moon beach
Ban Kai is a laid back party place with its own itinerary in the centre of the islands party action - full moon, half moon and black moon parties all within a few minutes reach. The bay is small yet perfect allowing great tanning and swimming. It is an idylic cove.
Click Here for a Pop Out of the Koh Phangan Party Date Schedule - Full Moon Party, Half Moon Party & Black Moon Party.
At low tide the beach can be walked all the way through to Ban Tai - several kilometres allowing interaction between beaches and the various bars that are positioned along the sea front.
Ban Kai Bungalows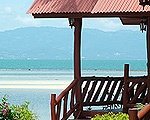 Morning Star Resort is a recently refurbished resort on Ban Kai beach in the heart of Phangan Party Land. Morning Star Resort is located Just ten minutes from Haad Rin with a beautiful beach, swimming pool and a range of modern Thai classic bungalows. The resort is famous for its friendly atmosphere and attracts party people from all over the world. Morning Star Resort offers a perfect holiday destination. The cocktail bar is legendary and a perfect place to start and finish the fun! Prices from 950 - 4,250 Baht per night. Current promotion 15% discount for 90 day advance booking.