Haad Rin is the home of the world famous Full Moon party - an extravaganza that attracts 30,000 revellers each month to rave, dance and boogie to their hearts content.
Click Here for a Pop Out of the Koh Phangan Party Date Schedule - Full Moon Party, Half Moon Party & Black Moon Party.
It is also the scene of incredible beauty as the beach and bay span out with white sand and sparkling water.
Haad Rin is also famous as the place where Leonardo Di Caprio did not make the Hollywood film "The Beach". You can buy souvenir t-shirts in Haad Rin with "Leonardo was not here" stamped on the front.
Haad Rin is the night entertainment centre of Koh Phangan with bars and restaurants all over the peninsula. Haad Rin is usually full most of the year and so even when accommodation is not available tourists stay elsewhere and are taxied in for full moon and the general revellry.
Haad Rin Hotels Accommodation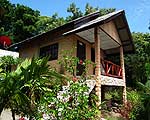 Moon Paradise Bungalows - www.moon-paradise-phangan.com
Moon Paradise Bungalows are the founders of the Full Moon party and are located at the southern end of Haad Rin Nok beach. With a range of spacious bungalows stretching from the beachfront to the top of the hillside there are five room styles to choose from. Bungalows can accommodate from between 2 - 4 guests per bungalow which are well priced and cater for all budgets. Moon Paradise is relatively peaceful - yet is just a few minutes walk to the heart of the bars and restaurants of Haad Rin. Prices are from 550 - 3,750 Baht per night.
Cocohut Resort is located on the Haad Rin Peninsula although is not directly on one of the two main Haad Rin beaches. Cocohut Resort is found on Leela Beach with a stunning beachfront location and an enormous property that extends to the hill top with an amazing range of Cliff & Hillside Bungalows. It is the hills that isolate the beach from the full moon party area. At sea level there are Pool Villas and Executive suites that surround the swimming pool. There is also a Spa and a Beachfront Bar & Restaurant. The resort is one of the finest on the Island and is very reasonably priced. Prices are from 2,050 - 8,900 Baht per night. Special rates available outside of full moon.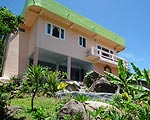 Paradise Villa - www.paradise-villa-phangan.com
Paradise Villa offer a beautiful three bedroom villa with simply gorgeous views across Haad Rin's two beaches. The upper level of the villa has an open roof terrace, the middle level provides the bedrooms and living room, the ground level has a sauna and additional bathroom facilities. The villa can accommodate up to 10 guests and is located within a few minutes of the local bars and restaurants. Prices are from 7,000 Baht - 15,000 Baht per night. Daily, weekly and monthly rates are available. Current promotion: Book 7 nights and pay 5 nights.