Koh Phangan - The People Island
Koh Phangan TV - the online guide for island accommodation reservations - bungalows, villas, hotels, resorts, apartments and houses for rent. Koh Phangan is the home of the Full Moon Party, yet is also the setting for an extraordinary array of nature's wonders - waterfalls, tropical beaches, mountains, streams, rare birds, reptiles, jungle and much more.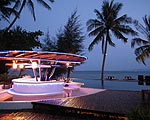 The Island offers elephant trekking, scuba diving, snorkelling, paragliding, Island tours by longboat, jeep safaris, hiking, trekking, Thai cooking classes, paragliding, Thai boxing classes, yoga schools, Karaoke bars, open mic nights, live jam sessions, sailing & day trips to other Islands plus bars and restaurants with many choices of international cuisine - there is something for everyone. Once a haven purely for the backpacker the Island now offers some first class accommodation in a variety of bungalows, villas resorts and hotels that make her a must place to visit and fall in love with. Long term houses for rent are increasing in availability on an almost daily basis. Click Here - Koh Phangan Island Map showing the various beach locations and districts of the Island.
Descriptions of each beach destination are included plus accommodation options are detailed. The range of bungalows, villas and hotels allows visitors some tremendous options - there is something for everybody on the island - back packers, families, couples and luxury seekers.